Brand Standards
ICC Logotype
The ICC Logotype is one of the primary identifying marks of the college, and as such it is essential to use it consistently. It is recommended using it on light backgrounds, with the required Vulpa Regular font. The logotype should not be altered with text-effects, such as shadows, glow, bevels, or any distortions. Furthermore, it should not be outlined, italicized, or stretched. If you have questions or are uncertain about acceptable use, consult with the Marketing and Public Relations office.
Acceptable:
Not Acceptable:
ICC Pirate Logo
The Pirate logo is arguably the college's most recognizable identity marker, and must be used consistently. In all print and web applications, the Pirate logo must be used in the primary colors. It is also acceptable to use a white and black version, including a one-color white and black copy. However, any other singular color use is not permissible. Download the logo.
Acceptable Uses: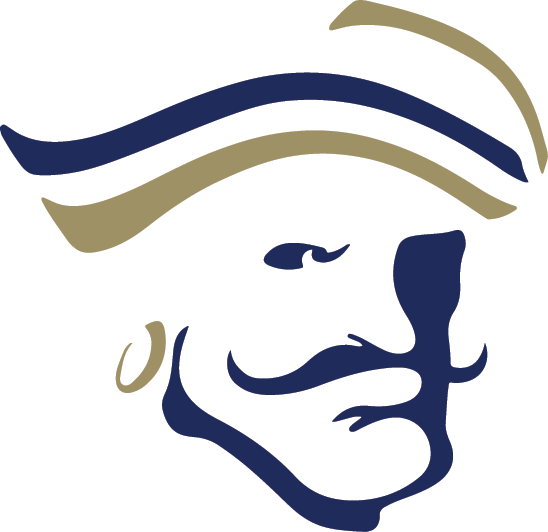 Not Acceptable Uses:
Colors
ICC uses a primary color scheme consisting of 'Navy Blue' (#1f2c5b) and 'Vegas Gold' (#9f9166). These colors are used to represent the college identity.
It is essential to maintain the Primary ICC colors as it signifies and reinforces the ICC identity. As with the font, there is a secondary color palette recommended by the college for design purposes. These colors are meant to complement the primary colors listed above, and to assist in the design of marketing materials, including: flyers, brochures, invitations, and posters.
Typography
The ICC logotype uses the Vulpa font-family, a serif font. The logotype utilizes one weight, Regular. And neither a different weight or another font-family should be used in the college's marketing materials.
Complimentary Fonts
In designing material to promote events or classes, we recommend Minion Pro or Myriad Pro to compliment the the Vulpa font-family used above.
We suggest using Minion Pro, also a serif font, for body text in marketing materials such as flyers, brochures, invitations, posters, and newsletters. Minion Pro Italic can be used for quotes and captions.
Myriad Pro, a sans-serif font, is recommended for headlines and subheads.
This site provides information using PDF, visit this link to download the Adobe Acrobat Reader DC software.